By Sarah Wieten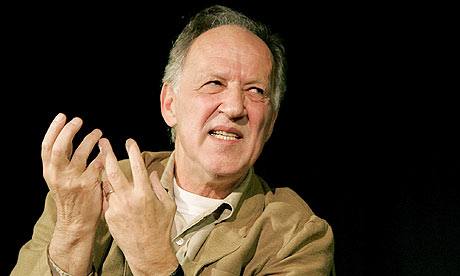 Werner Herzog
All I knew about Werner Herzog before I went to his "talk", for lack of a better word, at the University of South Florida was that one of my undergraduate roommates was obsessed with his film
Grizzly Man
. Afterwards, I am inspired to check out his other films although perhaps I will take his advice and have a nice, soothing shot beforehand.
The event was in fact not a lecture, as I had assumed based on the philosophy department's involvement, but instead a screening of on of his new movie called Into the Abyss (watch the trailer below), which focused on the major players in a 2001 robbery-triple homicide in Texas which landed one young man on death row, awaiting a June 2010 execution date. Through a series of moving interviews it becomes clear what kind of impact the possibility of execution by the state has on various players including the families of the victims, the perpetrators, their friends, spouses and family and even the man who actually performs the executions - over 120 of them over a career. Although Herzog made it clear that he did not want this to be seen as an "issue film" the stories told, which were surprisingly both poignant and occasionally funny, shown a bright light on the issues with capital punishment in this country, issues which are too often only abstractly considered.
Though these interviews only focused on the interviewee, with Herzog himself never depicted, for my money he was in fact the star of the film, using different personalities and tones to illicit raw responses from people with a wide range of backgrounds. So easily and subtlely was he able to convince each interviewee that he was sympathetic to their life story and point of view, that he started to seem like some kind of deceptive villain, manipulating his own personality to pull out the best response in the trusting individual, although I am sure that was not the intention.
Death Row Inmate Michael Perry is a Subject in Herzog's Latest Film
After the film Herzog answered questions from an adoring plaid-clad audience who asked about minutia from his previous films (I couldn't follow this conversation), the difference between feature films and documentaries (He said the line between them was so fine that even asking that question makes them seem too distinct.) and about his plans for the future (acting as a villain in a Hollywood film shooting in Pittsburgh).
Herzog also had advice for a more general audience. "Read read read read read- there is a reading list on my website for my film school and none of the books are about film or cinema."
"I just abhor an empty mind" Herzog continued, "that's why I really don't get all this meditation, yoga, what-have-you. There is something about a room full of housewives in
Wisconsin
doing collective yoga that is just horrifying to me. You should be trying to think, not to cultivate some kind of emptiness."
Herzog even had some kindly advice, although no job, for one bold (obnoxious?) young woman who requested employment as an actor in one of his films when she moves out to
Los Angeles
in a few weeks. "Do whatever you have to do to get into it- make up an acting troupe in a back room of a restaurant. Do whatever you have to do because you are in a city of 250,000 unemployed actors and entertainers."
The fact he brought four other recently finished death row documentaries as "back ups" seemed kind of strange, as if his films were a dime a dozen, done in batches like peanut butter cookies. Perhaps that's just the attitude a director takes on after over 60 films under his belt.