By Jon R. LaFollette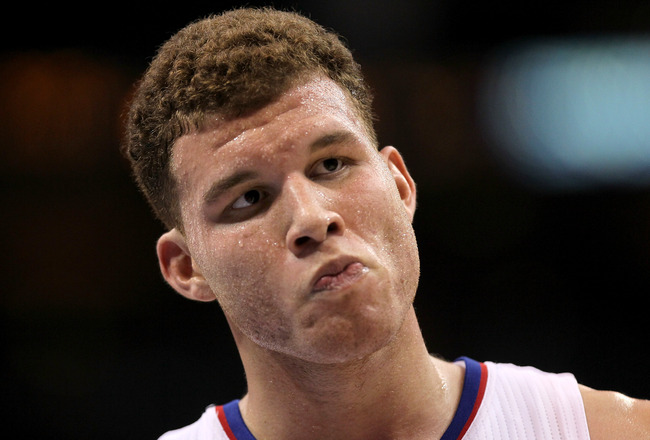 Fact: If Philip Rivers were ever an NBA player, he'd most likely be Blake Griffin.
The Pacers / Clippers game on March 20 was my first ever look at NBA superstar Blake Griffin. By now I've seen his seemingly
never-ending reel of highlight dunks courtesy
of ESPN (who always seems to have a celeb-athlete to promote nowadays), heard all about his athleticism and his All-Star abilities which, along with Chris Paul, have the once defunct Clippers squarely in the middle of the Western Conference playoffs, and I've even seen a few of his horrendously
unfunny Kia commercials
. On the surface, there is nothing outright offensive about Griffin's game, marketability or likability.
But in the midst of the Clippers' eventual 102-89 loss, Griffin proved to be the most underwhelming superstar I've ever seen in person. Kobe completely took over the fourth quarter and made some of the most difficult shots look routine. LeBron was an unstoppable force who very well could have scored 50 had Heat coach Eric Spoelestra not taken him out of the game. Steve Nash was quick and light-footed who zipped passes to shooters who almost never missed. Dirk was gracefully slick while hitting his mark with the greatest of ease.
Griffin? He seemed bored, clunky and apathetic. But looking at his stat line, you would almost never guess it.
34 minutes. 10-18 shooting. 23 points. 10 rebounds. A double-double. Essentially in line with what he's done all season thus far. He got his customary alley-oop in. Wowed a few in attendance. Hell, he even got a rare 3 point basket. His free throw shooting was abysmal (2-7), but he's been abysmal from the charity stripe all season (as I said, in line with the season thus far).
But as the Pacers began to build a marginal lead, the calls suddenly were less favorable to the Clippers, and Tyler Hansbrough was pugnacious and stiff defensively, Griffin suddenly turned distant and nonchalant. His shots became lazy, his defense (what little there was) all but evaporated. For the entirety of the fourth quarter, Griffin looked like the last kid to show up at an ice cream party while running up and down one empty possession at a time.
But here's the worst part, the Clippers cut an 18 point Pacers lead to 12 with just under five minutes left in the game. If you're Kobe, LeBron, Nash, Dirk, Rose or Durant, that's still a winnable game. In fact, that's take over time. That's Assert-Your-Dominance-Time. But for Blake Griffin, it's Get-Blocked-By-Lou-Amundson-Time.
Game over.
Instead of being the go to superstar I've heard about, Griffin became irrelevant and morphed into what he's been the past two years, a middle of the road player whose only real strength is his ability to dunk. He has an unspectacular midrange game, his defense is porous and his free throw percentage is sitting at a staggering 55 percent. Sure he's physically stout, but once a defender pushes him back, he cowers back while glaring at the officials when they don't blow the whistle.
Oh he got his highlights. I can recall three dunks that were powerful, nasty, and mean. But last time I checked, winning says more than making ESPN's Top 10 Plays.