Editor's Note: While our movie buff Dave Beauchene is always given free range to write about, and review, whichever film he chooses, for The Dark Knight Rises, I thought we at PopTometry would try something different. Rather than let Mr. Beauchene have all the fun, we've let each contributing writer have his say on the conclusion to Christopher Nolan's Dark Knight trilogy. We were going to run this review earlier, but given the situation in Aurora, Colorado, we decided to postpone the piece, as more important matters necessitated it.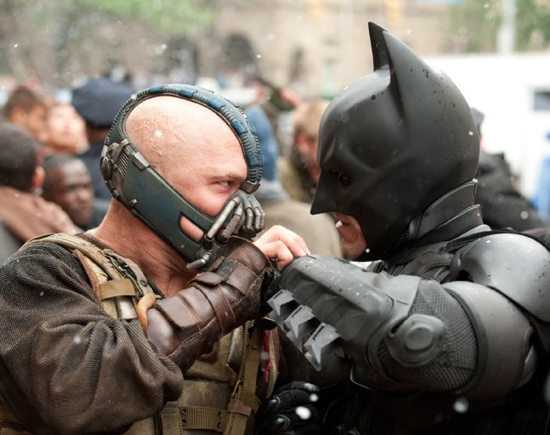 Rock beats scissors.
It's probably not a good sign that I'm having trouble channeling any kind of response to
The Dark Knight Rises
for the purpose of this review. I can – sincerely – barely even recall it (I remember punching, and political undercurrents, but not much else). That's altogether more damning than even a very articulate, very convincing criticism of the film; here we have the final chapter in a movie series people have pretty much equated with the best of cinema, and I have not thought twice about it since leaving the theater last Friday. I've talked about it with friends, of course,(and the conversations have generated surprisingly endless compilations of criticisms), but I have not, on my own, been brought to think back on it even a single time. For the record, thinking back on movies has long been a full-time hobby of mine.
I'll run down a few things, the best I can. The character introductions and reintroductions felt uninspired. Catwoman could have exited the flick at any point and I wouldn't have noticed. Commisioner Gordon didn't seem to have much to do, either. The way people delivered lots of lines, and often the lines themselves seemed strangely awkward. (SPOILERS UNTIL END OF PARAGRAPH) Bane was cool until his mystique was undercut by the return of a plot from the first film I was never interested in to begin with. Joseph Gordon Levitt was fine, but brought nothing extra. Him turning out to be Robin was easy to see coming and completely un-necessary. Did anyone care about his character at face value? How is becoming Batman's lame sidekick, without Batman, a staggering ending? He was injected to give the movie an extra conclusive note that felt pointless. And how many times did that one cop have to say "Oh boy, you're in for a show tonight!" etc, when Batman came back. It was corny and awkward.
I liked how this movie did, at least, now and then feel like an actual Batman film, with him and Catwoman fighting it out on rooftops and all. Bane's voice was undeniably strange (and disarmingly reminiscent of Plankton from Spongebob) but gave the character a neat presence, I thought. The scene where Alfred talks about hoping to see Bruce in another country, safe and anonomous was emotionally resonant. There are moments in Batman's second fight with Bane that felt genuinely intense and dire. The part where the lights went off during the cycle chase was neat.
I also think people are two single-minded in their appreciation of Nolan's profound thematic arcs and high concept plotlines. He crafts a script with huge pretenses, but seems truly mild, here, at creating anything actually resonant on the screen from them. He never seems to project the same inspiration as a director that he does a creator of plot and theme, and so much of the basics of this movie, the actual presence of it, can be awkward, tone-deaf, and however vastly intentioned, just not that great. The Dark Knight, for all its big ideas, ran on simple narrative fuel. Its successes were in the broad turns of story and incredible portrayal of the villain. That made the at times clunky imposition of moral ramification and so on easier to swallow. With Rises, there are countless further details, and so few big, strong swoops of intuitive story. Nolan works hard to bring it all together (and I don't blame him) and accordingly achieves none of the fundamental, broad beauties of his previous film. Are at least so few I couldn't tell the difference.
Postscript: It's just struck me that, more than anything, this did not feel like the conclusion to the second movie.
GRADE: C
- Dave Beauchene
The Dark Knight may have seen director Christopher Nolan give everything he could to the city of Gotham, but The Dark Knight Rises lacks the same level of vision and ambition as its predecessors. After the credits rolled, I say in my seat and pondered what I had just witnessed and was ultimately left confused.
The third installment really separates The Dark Knight from the rest of the trilogy, which is one reason why I felt a bit disappointed. The Dark Knight felt like a complete movie, something totally separated from the comics, but Batman Begins and The Dark Knight Rises stick closer to the comic side of Batman with little Easter eggs hidden throughout the films.
On one hand I really liked the story lines working throughout the film, but on the other hand I felt like the movie didn't properly conclude the series and rise to the hype surrounding it. However, at the end of the day, The Dark Knight Rises ties the trilogy up well, maybe not as good as I had hoped, but I can say that I am satisfied.
Let's just hope this series isn't rebooted within five years or get any spin-off films for the simple fact the trilogy stands on its own. I'd like one comic book film to end without seeming like a cash grab. I call it the Spider-Man syndrome.
GRADE: B+
- Roberto Campos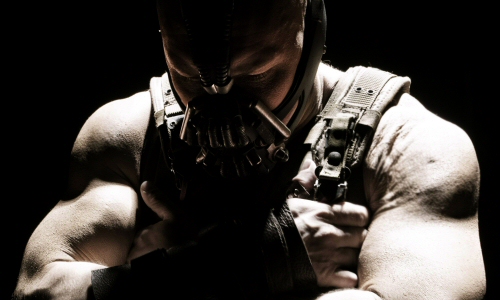 I saw a comparison on a competing pop culture blog which equates the Dark Knight trilogy with that of
The Godfather
movies
.
And while I've only seen the first
Godfather
film, I'm almost positive this person is wrong. A better approximation for Nolan's series of Batman flicks is
Star Wars
; solid if unspectacular opener, iconic second chapter, convoluted and overrated finale.
Where its
predecessor was gargantuan, it was also well paced, neatly stacked and compartmentalized. Here, everything is left in a heaping, sprawling, unsatisfying mess. Too many new characters are introduced but never made necessary, too many twists are too obviously foreshadowed in the opening act to make them potent in the finale, and a foe as intimidating as Bane is never put to good use, and is instead relegated to the lowly role of the grotesque henchmen come film's end - just as he was in the horrific Batman & Robin.
That's not to say that
Dark Knight Rises
is a complete waste. Christian Bale gives it his all and Michael Cane makes good use of the limited time he's given on screen, but those two can only do so much for a script as weak as the one provided.
And oh what a script it is. The more I think about it, I'm surprised this film was written by the same team that constructed
The Dark Knight
. Where that film had such keepers as "Some men just want to watch the world burn," or the infamous magic trick moment, this movie has more than its share of stiff, forced and hollow dialog. Take the the following exchange as an example:
Some random character:
If I take off that mask, would you die?
Bane:
It would be very painful.
Some random character:
You're a pretty big guy.
Bane:
For you...
And this one:
Some random character #2:
What are you doing here (on Wall Street)? There is no money to steal.
Bane:
Then what are you doing here?
And another:
Bane:
So, you've come back to die with the city that you love.
Batman:
No. I've come back to stop you.
Or perhaps this:
Bane (to Batman):
You only adopted the dark. I was born there. The shadows betray you. Because they belong to me.
And finally:
Miranda Tate:
The only thing he was guilty of was loving me... Goodbye my special friend.
Indeed. Goodbye to you Batman, my truly special friend. I just wish you were given the grand exit you deserved, not just the one we needed.
GRADE: C
- Jon R. LaFollette
From watching the first two installments in Christopher Nolan's Dark Knight trilogy, it was clear Nolan was doing his best to make Batman movies for Batman fans, and not just the average movie-goer. They were for people who have even a minute knowledge of the comics and the deeper moral meanings of the Batman character, and not just for the people who had seen the not-so-great Batman movies of the 90's. But by the end of
The Dark Knight Rises
, it felt like Nolan abandoned those original plans in favor of wink-in-your-face fan service.
The movie is barely kept together, as it falls victim to its many missteps, until its final act where everything just seems to fall apart. The introduction of the movie's central villain, Bane, sets him up to be a terrifying adversary for Batman, but by the end of the movie, Bane's role becomes diminished to the point where he doesn't feel any more important or threatening than many of his of nameless henchmen. When the movie reaches the climax of Bane and Batman's first encounter and gets to a moment that, especially to fans of the comics, should feel devastating and important, the scene ends up feeling like such a throw-away that the gravity of what just happened feels drastically smaller.
The hostile take-over of Gotham that follows, while it has the appropriate feeling of menace and despair, is one of the few things that could have been trimmed from the movie's lengthy running time. The other disposable plot line is the motivations, or really just the entire character of Deputy Commissioner Foley, who takes it upon himself to capture Batman after the caped crusader takes the blame for Harvey Dent's death in The Dark Knight. Foley's presence only serves to remind viewers that "Hey, Batman is supposed to be a criminal!" We get it. It's what everyone gathered from watching the end of the previous movie. Foley is a completely useless character that adds nothing to the mix, and the movie would've been able to benefit from the shorter running time it could've had.
The movie isn't a complete loss. Anne Hathaway as Selina Kyle and Joseph Gordon Levitt as a rookie police officer both turn in surprisingly good performances, given the script they had to work with. Nolan's penchant for social and political commentary in the franchise continued with parallels to the Occupy movement, and it managed to feel like a natural part of the movie rather than feeling like it was shoehorned in for relevancy. The action sequences and the epic feel of Gotham's fall both add a bit to the movie, but much of it is weighed down with clunky dialogue ("I came back to stop you!") and just poor writing (Looking at you Alfred). Nolan has stated this will be the last Batman movie he works on (and good for him), but it almost seems like Nolan does a 180 with the trilogy's sense of finality with several groan-worthy twists tacked on in the movie's final minutes that will have many believing a fourth movie, and possibly even a new franchise, are in the inevitable future, obviously because of money. Nolan does a decent job in setting up Gotham City's demise and Batman's downfall, but ultimately ends up crumbling under the massive weight of all the pieces he tries to balance before the final act.
Grade: C+
- Scott Raychel