By Roberto Campos
While much of the nation is caught in the midst of a devastating heat wave, saying that summer has officially begun is an understatement.
But while summer is usually a lucrative season for other segments of the entertainment industry, it's a rather low key time for video game as developers ready their games for the onslaught of the coming holiday season. Still, there are plenty of good games currently in stores that can keep you out of the vicious heat.
Below are some essential titles to beat the heat and get your gaming fix throughout the summer.
Diablo III – PC, MAC
Here's a game that's sure to devour your time, as well as your social life, and keep you inside for hours, maybe even days.
The third installment of Blizzards highly successful Diablo franchise and is set 20 years after the events in Diablo II, which was released a decade ago. Diablo requires players to pick a unique character class and build a strong character in the attempts to defeat Diablo.
Sounds simple enough right? Well the story, while intriguing and great, really isn't the fun of Diablo.
Akin to a third person Borderlands, the game is all about exploring the different character classes, looting everything the game has to offer to find the best weapons and armor and beating the game on its hardest difficulty.
Something that also makes this a highlight of the summer is the fact that you don't have to play the previous installments to follow the game. Blizzard did a great job telling the stories of past games throughout the narrative of Diablo III, which is a giant relief since players won't have to play games more than a decade old.
The game mechanics are simple ea
sy to pick up which makes for addictive gameplay. Battles sequences in
Diablo
very in degree of difficulty throughout dungeons which keeps players on their toes and making decisions on what enemies to take out first.
Diablo III
has huge replay value and can alone grab your attention for the whole summer. If you haven't picked up this tittle yet do yourself a favor and give it a try.
Minecraft: Xbox 360 Edition – Xbox 360, PC, MAC
If there was one word to describe Minecraft it would be imagination. One of my top 10 titles of 2011 has been ported to the Xbox 360 and it has been done wonderfully.
Minecraft is a game all about players being dropped into a sandbox and shaping the world around them with their imagination. Its campaign is essentially never ending, although there is a way to beat a final boss, and requires players to survive in a world infested with zombies by night for as long as they can.
Survival Mode is only half the fun though; Creative Mode allows players to have all the worlds' resources at a player's disposal and lets them create whatever they want. Google Minecraft and peak at some of the more inventive creations people have concocted.
The controls to the 360 version work superbly and have been well adapted to the console. Crafting on the 360 is different when compared to the PC version, but it works just as well and as seamlessly.
If you're looking for a nice arcade game to pick up this summer, Minecraft: Xbox 360 Edition is a great pick. It's also available for PC and MAC.
Max Payne 3 – PlayStation 3, Xbox 360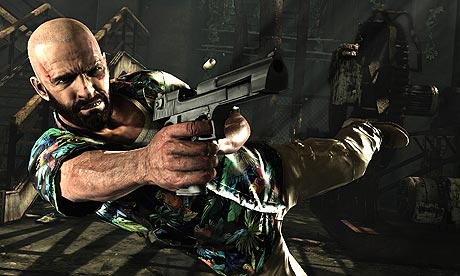 Filled with as much booze and hangovers as a college campus, Max Payne 3 extends the Max Payne series narrative in excellent fashion by combining great story telling, visuals and gameplay that lets you live out your Matrix fantasies.
Story telling is where Rockstar Games makes their mark which can be seen throughout the Grand Theft Auto franchise and Red Dead Redemption games, and Max Payne 3 is no exception. Focusing on Max trying to deal with his past, the story is told through his eyes as he tries to play a drunken bodyguard in Brazil.
The voice acting is excellent and greatly enhances the moments when you're not blowing people's faces away. Nothing beats hearing a dark and gritty Max say "this place was like Bagdad in G Strings," while you're about to slow motion shoot someone in the face. The dialogue in Max Payne 3 is full of colorful lines just like that one.
When it comes to gameplay, the fun lies in the creative ways in which you can take your enemies down. Do you want to go in guns blazing or jump over a car in slow motion and light up enemies like Neo? I vote slow motion every time.
Max Payne 3 is a fun distraction from the Role Playing Games and multiplayer shooters out now and its multiplayer offers enough replay value to keep you entertained for a while.
Tom Clancy's Ghost Recon: Future Soldier – PlayStation 3, Xbox 360
If you're tired of the same run-of-the-mill shooters like Call of Duty: Modern Warfare 3 and Battlefield 3 this might be the game for you.
What's great about Future Soldier is the fact that this game actually has a story that is intriguing, fun and different than the modern day shooters that have been ruling the market. The story mode forces players to think out their present situations and decide how they'll react and tackle each obstacle in their way. Most situations can be tackled through the use of stealth, but if that isn't your style, then an all-out assault on enemies is a route players can take.
The story also does a great job connecting each of the ghosts in the game and enacts a no-man-left-behind mentality among you and your fellow ghosts. While this method is done very well thought the story, the surge of bad graphics at times takes away from it.
Multiplayer contains content that will keep players intrigued until the more mainstream tittles come out at the latter part of the year. Modes like Decoy and Saboteur were favorites of mine and have high replay value. Cooperative Story Mode is also a highlight of the story mode as it allows you and three friends to take on the Russians, which can open some tactful ways to take down enemies without their knowledge of you being there.
This is a great game to play if you're bored of the current shooters that are out and are looking for something that has a different pace than the standard modern day shooters possess.
Pokémon Conquest – Nintendo DS

If you take a strategy like Nobunaga's Ambition and sprinkle a little bit of Pokémon on the top you get Pokémon Conquest, a mash up of two games that you would never see coming.
When you hear a turn-based strategy game that is a Pokémon spinoff, it's automatically intriguing. But the fact is after you dust of the gimmick this game has implemented, there is actually a solid game beneath it. The game uses a lot of the lore and story tactics of the Nobunaga's Ambition series and ads in Pokémon for a combination that proves addicting and fun.
What's so impressive about this game is not only that fact that it chooses to mesh with such an obscure Japanese tactics game, but how deep and how well it works together. Pokémon Conquest plays like Final Fantasy Tactics and Fire Emblem and its gameplay is just a rewarding and challenging as those two games.
Loaded with content, 200 Poke companions and an initial 20 hour long story mode, with an additional 100 for full completion of the game, this is definitely a title that might be off your radar but certainly good enough to look into.
Mass Effect 3: Extended Cut – PlayStation 3, Xbox 360
The controversial ending that made fans cry out to EA and BioWare and ask WTF after they finished their first play through of Mass Effect 3 has been remade and tailored to appease Mass Effect fan boys and fan girls everywhere. Released for free, BioWare hopes to expand upon the ending of the game to make the conclusion of the epic saga more clear.
Time will tell if this extended cut does the job and resonates with fans better than the first time around did. From what I've played of it so far, I've enjoyed it, but I feel like the original ending was a sufficient ending to the Mass Effect saga. But that is a whole different rant and we won't get into that.
Bottom linem if you own Mass Effect 3 you should be playing this because it is free and it expands the ending. Plus, after ever body made such a big deal about the ending it will be nice to see if it was worth it. If you don't own Mass Effect 3 you should definitely look into buying the game and downloading the DLC that just came out, it will keep you inside all summer and have you exploring the universe with its hours upon hours of content.
The Elder Scrolls V: Skyrim -- Dawngaurd – Xbox 360
Skyrim has spawned DLC and with that comes thousands of gamers everywhere reentering the Nordic land of Skyrim. Dawngaurd is the first DLC that Bethesda has released for Skyrim and lets gamers venture into a deeper story plot involving vampires.
One reason I gave the 360 the advantage as being the better console with Skyrim is because PlayStation has to wait until later this year for Dawngaurd to be available. From what I've played of it, Dawngaurd has been a great time and is worth the $20 to download it.
Let's be honest though, if you own Skyrim you've probably already own Dawngaurd or are going to own it very soon. And if you don't own Skyrim in the first place, well then you should probably ask yourself why and go buy it. It's worth killing your social life because of all the fun you'll be having virtually slaying dragons. Trust Me. It's so rewarding.
Comment below and tell us what you are playing this summer and why. Also, follow us on twitter, @poptometry, and follow us on Facebook.